About Coastline Realty Group
Centrally located in Berrien County, our office services buyers and sellers of residential, commercial, vacant land and farm properties.  It is with the upmost integrity and level of quality that our clients appreciate our common sense approach to getting the job done.  Start-to-finish you will notice nothing missed in every detail and our work to be efficient AND effective.  You will not be disappointed.
We are local, hometown folks who's families have served in numerous capacities in our communities for decades.  We are proud to follow and deliver the kind of business, trust, and compassion their legacy has paved.  We truly enjoy the home buying and selling industry and lending our time and talents to help those engaged in the process whether it be their first home purchase or their last of many.  We are surrounded with all needed tools and resources to make your sale or purchase as simple as can be.  We are grateful to all those who have allowed us to serve in this important role and are excited to help you as well.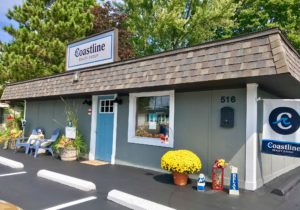 HISTORY OF LOCATION AT 516 NORTH CASS STREET
Broker/owner Kim Keigley caught the entrepreneurial bug early.  Since 1985 she has been associated with the physical location of Coastline Realty in many facets.  Her parents, Rick and Debbie Davis purchased the small building and land after a fire burned the home that previously existed.  Kim's father opened Kis Photo in October 1985.  (The telephone number is still 471-KISS.)  After a couple successful years in that business, he added video movie rentals in 1987 and expanded the size of the building twice.  For decades it was a successful video rental store.  Kim became its owner in 1999 after having worked there as a youth and returning back to Berrien Springs after college and a career in corporate America.  Most recently it became Coastline Realty in 2016. Prior to the Davis-Keigley era, they are told it housed a small bakery and beauty shop.